The mountains in our blood
We have a great love for nature. We ran a successful  landscaping company in the Netherlands for twenty years. Through our craftsmanship, creativity, and love for greenery, we created many gardens. With pleasure.
But at the same time, something was missing because the mountains are in our blood. Every time we returned to the Netherlands we wanted to go back to the peaks and valleys, the rivers and streams.
Klaas: "In 2018 we came to Valsesia with our children and fell in love immediately. Nature, tranquility, the river, the mountains; it felt like coming home".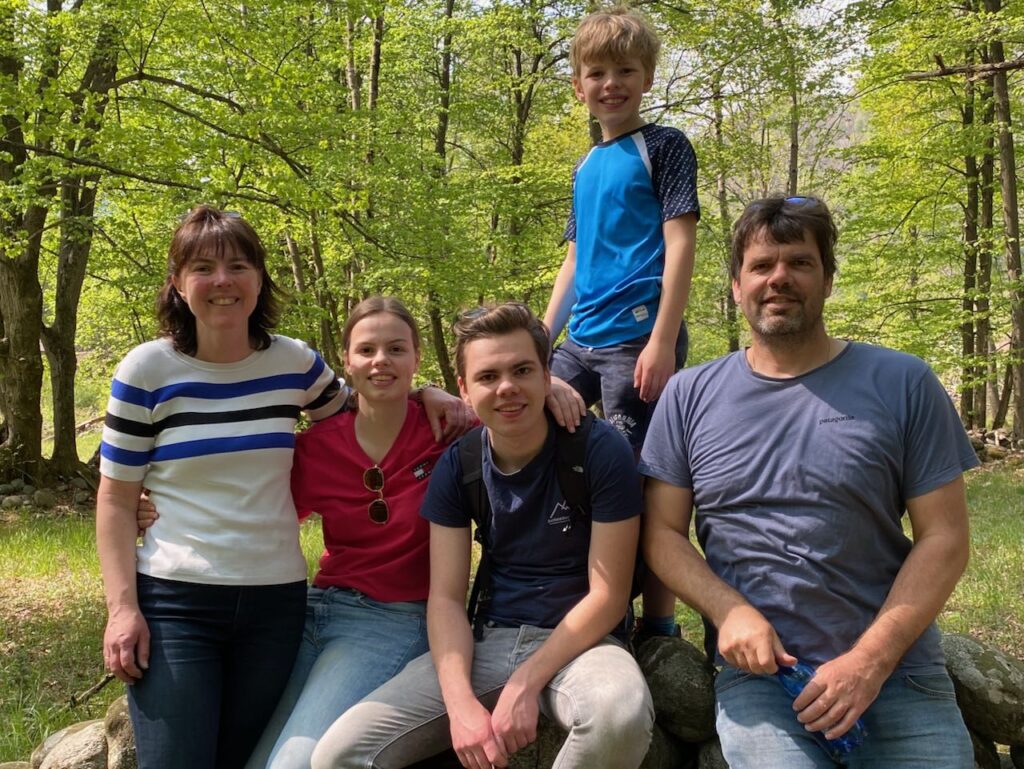 We bought an old house on the river, renovated it with a lot of dedication and spent as much time as possible in our favourite valley.
Miranda: "The views, the change of light and colour, the different seasons, it is so incredibly beautiful here. It feels like living in a painting."
In 2020 we took the plunge. We moved with our family to Italy to start a new chapter: creating guest houses, on the most beautiful slopes of Valsesia.
As a family, we recently transformed an empty storage room into an apartment, using the original materials. In the summer of 2021 we also started renovating a mountain hut in a beautiful place in the mountains. With a new roof and renovated interior it will be ready for the spring of 2023.
The old storage room has been completely renovated. A peaceful atmosphere has been created by combing the original materials with the authentic thick walls and beamed ceiling. The apartment has an area of 62 m² and is suitable for 4 persons.
With a lovely view of the river Sesia, the eat-in kitchen is fully equipped. There is a 5-burner Smeg gas stove with oven, a dishwasher, a refrigerator with freezer and a Nespresso machine. The living room is furnished with spacious and comfortable seating. For cooler days and evenings there is an attractive wood stove, as well as central heating.
The apartment has two bedrooms, with the beds made for your arrival. The bathroom is spacious and has the same authentic atmosphere, it is equipped with a rain shower, double sink with 2 large mirrors, hair dryer, toilet and bidet.
Outside you have access to a private terrace with furniture.
Private parking, wifi, towels and bed linen are included.
Our apartment Stella is centrally located 5 minutes away from the beautiful town of Varallo (Piedmont region).
Varallo has picturesque streets with plenty of shops, restaurants, bars and a very good ice cream parlour with the most delicious gelatos. 
For those interested in an active holiday, there is much to do in the immediate vicinity as there are countless hiking trails and cycle routes. In addition, there are many water sports options, including rafting, kayaking, canyoning and fly fishing. The permits for fly fishing are sold in the village.
For those wanting to enjoy the snow, there are fantastic winter sports areas in Scopello (11km) and Alagna (30km). These areas are easily accessible by car from our apartment.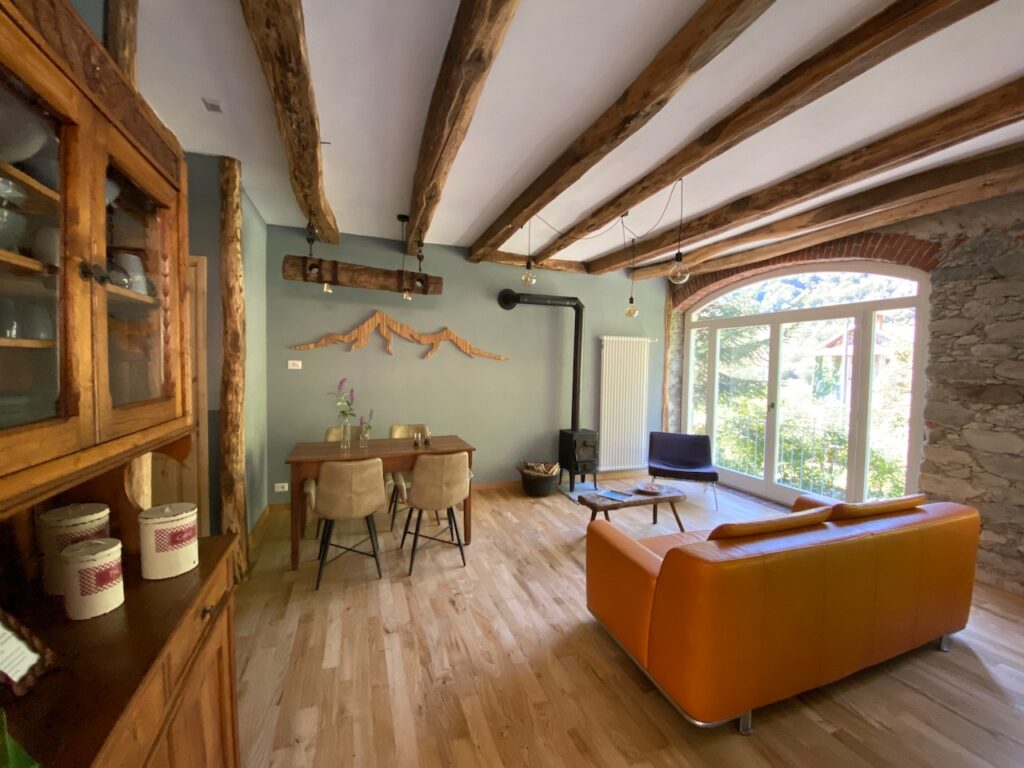 Stay in the middle of nature
Do you want to immerse yourself in nature, in your own authentic Italian mountain hut far away from the crowd? Then you have come to the right place at Mountain Cabin Valsesia.
Our mountain huts are located in the most beautiful places of the Sesia valley and all have a phenomenal view. A paradise for nature lovers, hikers and adventurers.
The cabins are a unique place for anyone who wants to hit the pause button and enjoy the adventure, tranquility, breathtaking views and the opportunity for adventure.
For those who want to wake up to the birds, have a picnic on their own alpine meadow and look at the stars, this is the place for you.
The mountain huts of Mountain Cabin Valsesia are nestled in the foothills of the Alps, surrounded by beautiful nature. They are located approximately 5 to 15 minutes walk from the nearest road.
Our cabins are adjacent to a nature reserve and offer absolute peace and privacy. A "hide out on your own mountain" with an impressive view away from the bustle of modern life: pure and simple.
The huts have been renovated with authentic materials in keeping with the traditional methods used in this region and all have a terrace from which to fully enjoy the tranquility  that  Valsesia has to offer.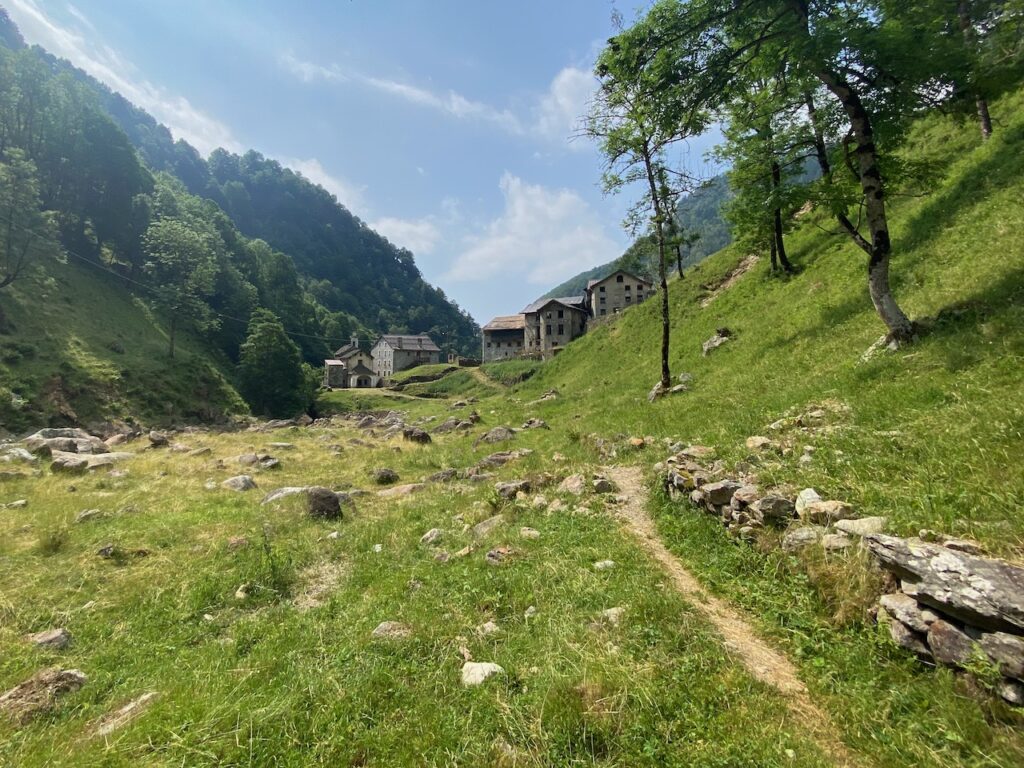 In the middle of the woods at 880 m altitude, you will find this pearl, "Cabin Nel Bosco".
This 2 person cabin is currently being restored and will be ready to welcome guests from Spring 2023.
The roof has been completely renewed using the authentic slates and roof trusses made from trees that grew near the cabin. The interior is currently being finished with same care and respect for tradition.
Would you like to cook on a wood-fired stove, enjoy the silence and watch the deer pass by? 
We are taking bookings and look forward to welcoming you in 2023.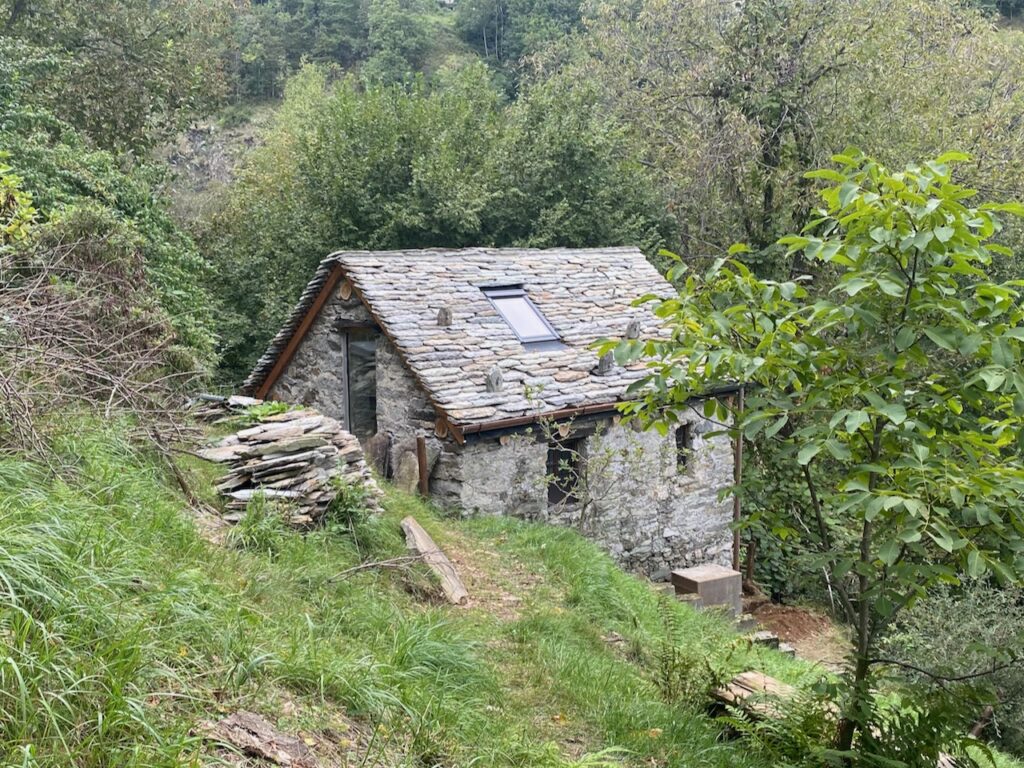 The greenest valley in Italy
The mountain region of Valsesia is perhaps Italy's best kept secret: authentic, unspoilt and beautiful. Valsesia is also known as the greenest valley in Italy. A sparsely populated area with breathtaking nature, where time seems to have stood still.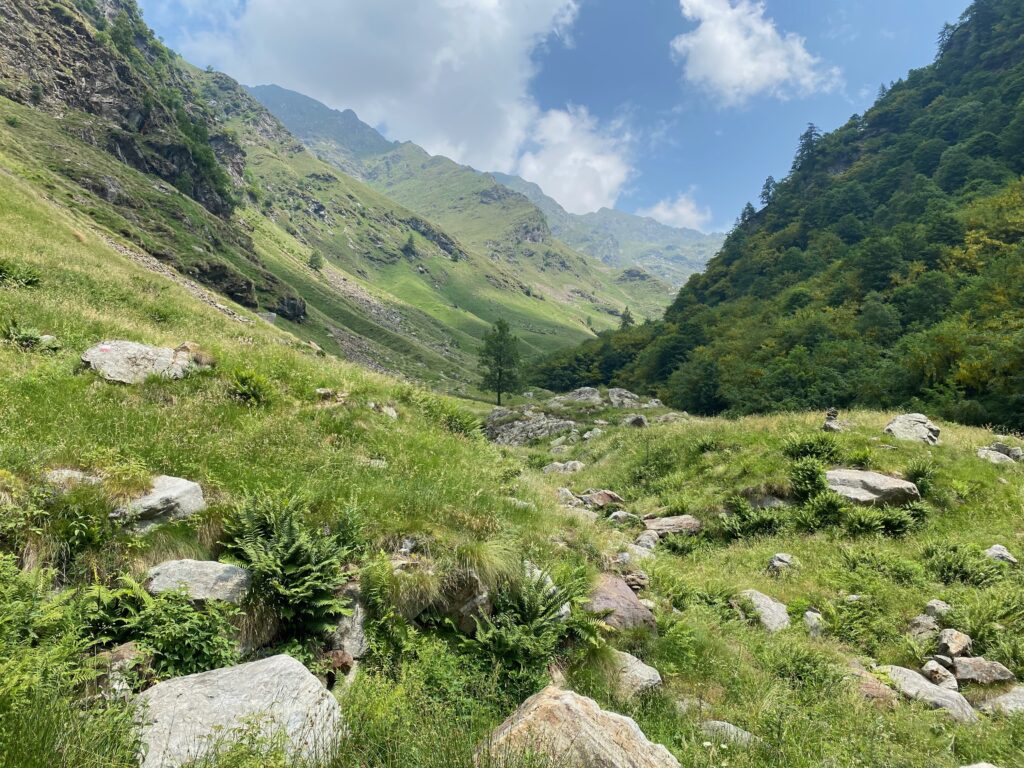 Valsesia takes its name from the Sesia River. It rises from the glaciers on the slopes of Monte Rosa (4634m), the second highest mountain in Italy. Meandering through wooded valleys, the Sesia is fed by smaller mountain streams that cascade down hundreds of waterfalls. Visit the quiet alpine meadows where you can see not only wild flowers, but also deer and chamois.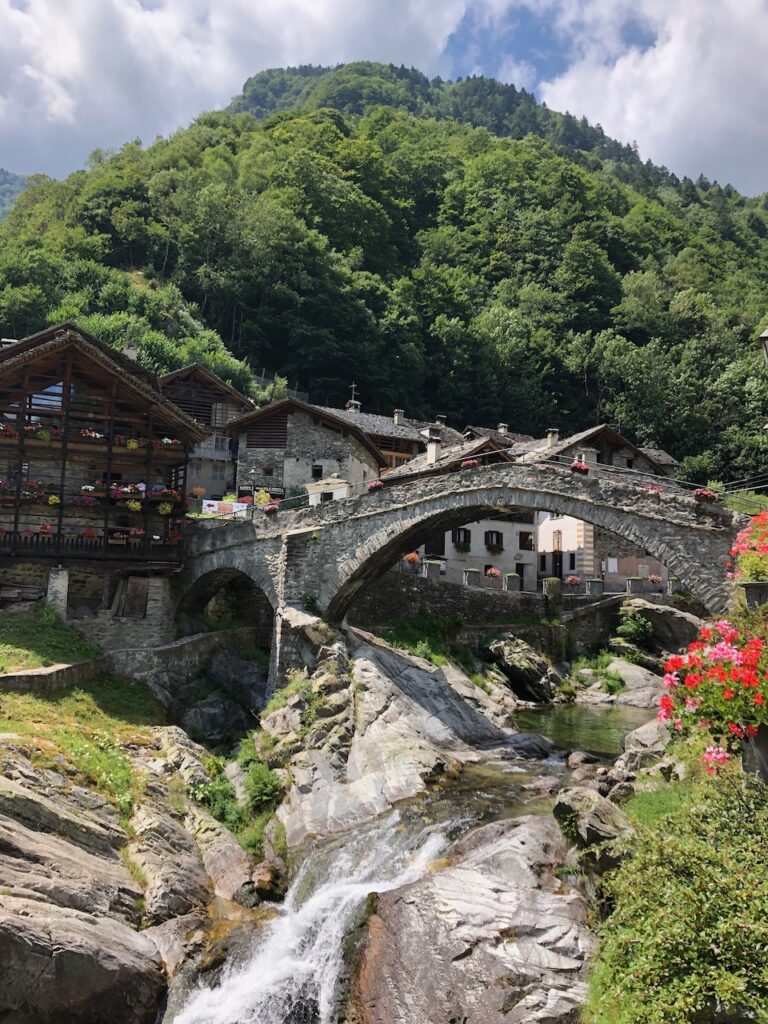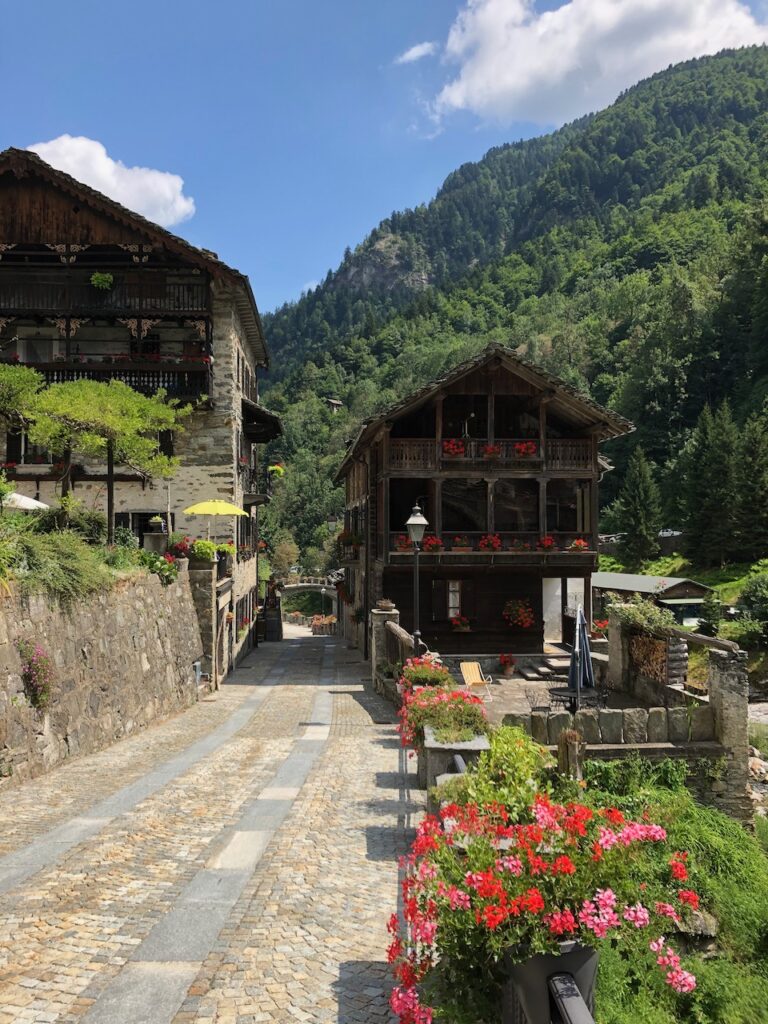 The valley has cultural-historical sights such as the town of Varallo and the small village of Rassa with its traditional houses. The pilgrimage site of Sacro Monte di Varallo, recognized by UNESCO as a world heritage site, is worth a visit. Via a beautiful route over the Passo della Colma you reach the Lago D'Orta. A picturesque lake surrounded by charming villages.
Piedmont is known as the king of Italian cuisine. The region is renowned for its wines, white truffles, mushrooms, cheese, antipasti, game and risotto.
Also in the mountains around Mountain Cabin Valsesia, there are plenty of local specialties to enjoy, such as miacce (wafer-thin crispy pancakes filled with cheese or ham) and polenta. Both great after a brisk mountain hike.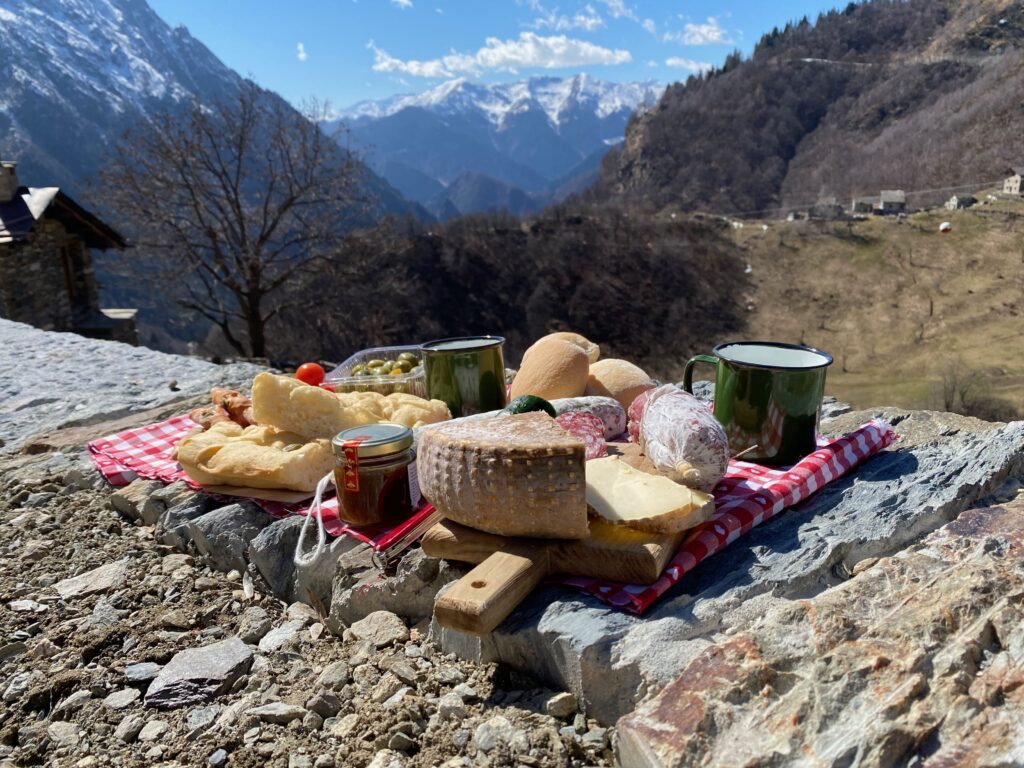 For the sports enthusiasts
The biggest attraction of the Sesia Valley are the tranquility and the phenomenal landscape. The mountain huts are therefore ideally suited for enjoying the view, spotting birds or deer, chopping wood, picnicking on your own alpine meadow or looking at countless stars.
Do you want to do something more active? Winding hiking trails lead into the mountains from each village. Via beautiful routes you walk on mountain flanks and through deciduous forests, past waterfalls, mountain streams and old settlements. With a bit of luck you may see deer or chamois. Experienced mountaineers can climb the Monte Rosa with a guide and mountain bikers can enjoy themselves on the slopes around the valley.
There is plenty of fun to be had for lovers of white water sports too. The Sesia is a perfect place for kayaking, rafting and canyoning. Fly fishermen also like to come to the rivers and mountain lakes of Valsesia to catch trout and other fish. Don't forget to bring your fishing rod and buy a fishing permit in the town.
In the winter months it is very beautiful in Valsesia and there is a lot to experience. Scopello and Alagna offer both ski slopes and cross-country trails for you to enjoy.
Low season
09/01/2023 – 17/02/2023
06/03/2023 – 21/04/2023
08/05/2023 – 31/05/2023
01/10/2023 – 13/10/2023
29/10/2023 – 22/12/2023
High season 
18/02/2023 – 05/03/2023
22/04/2023 – 07/05/2023
01/06/2023 – 30/09/2023
13/10/2023 – 28/10/2023
23/12/2023 – 08/01/2024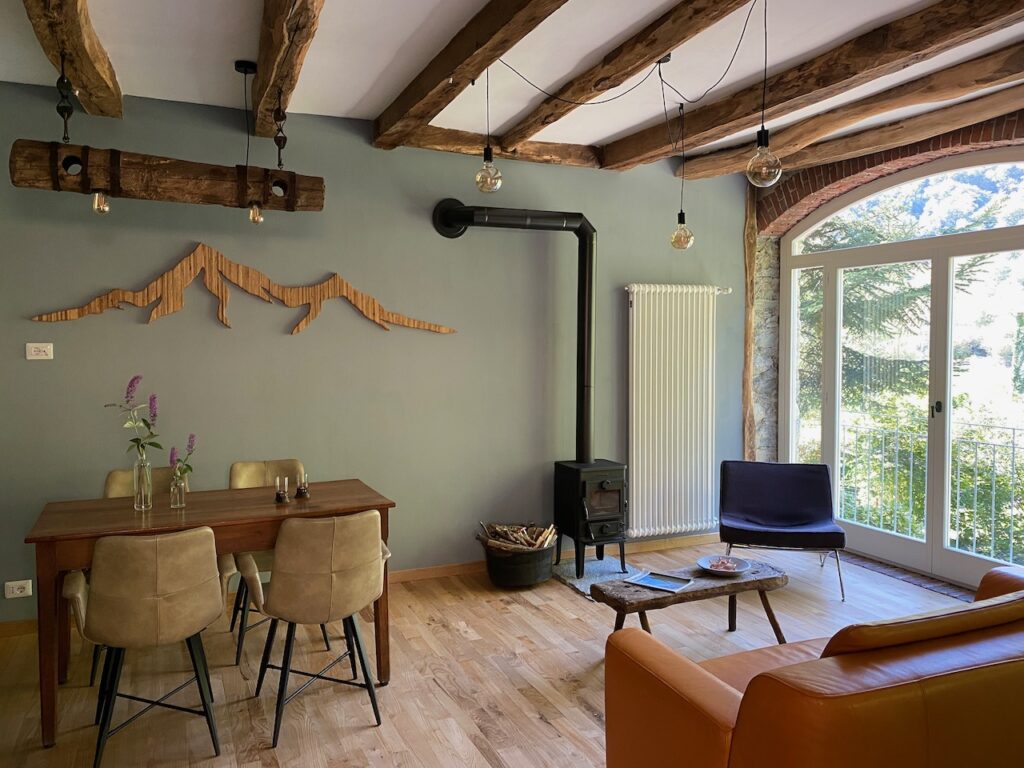 Low season
08/05/2023 – 31/05/2023
01/10/2023 – 31/10/2023
Prices per night  € 135,– 
High season
29/04/2023 – 07/05/2023
01/06/2023 – 30/09/2023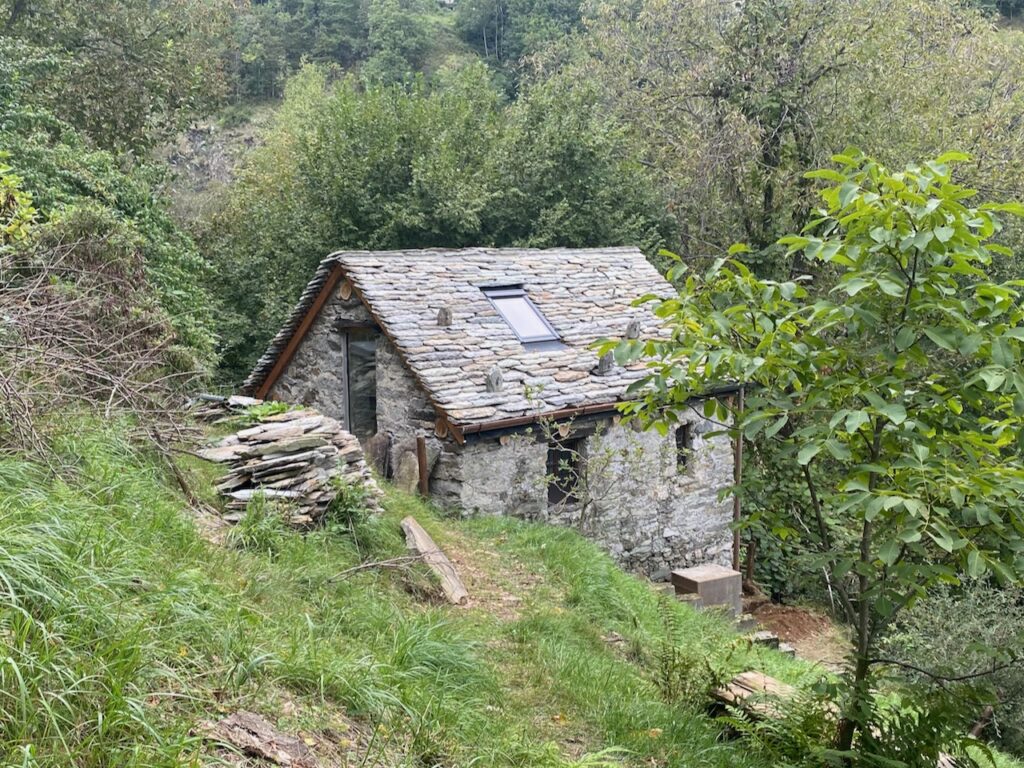 Additional costs:
Final cleaning € 75,-

Damage deposit € 300,- this must be transferred no later than 5 days before the arrival date.

Tourist tax € 1,- p.p. per night.
Our accommodations are pet-free.
Arrival & departure
Arrival and departure is possible on any desired day.                          
The arrival times are between  15:00  and 20:00.                       
If you wish to come earlier or later, this is possible, but in consultation.
The departure time is before 10:00 AM.                       
The duration of stay in apartment Stella is a minimum of 3 nights.
The length of stay in Cabin Nel Bosco is a minimum of 3 nights.
Payment & Cancellation
When booking, we ask for a deposit of 50% of the total rental amount, which must be paid within 5 days after reservation. The remaining amount must be paid 6 weeks before the start of the rental period.
If the full rent is not paid on time, the reservation will be canceled without refund of the deposit.
The tenant owes the full amount of the rent, as stated on the reservation confirmation. This also applies to later arrival or earlier departure of the tenant than stated on the booking confirmation.
For bookings within the period of 12 weeks, the total booking amount must be paid immediately.
If canceled more than 12 weeks before the start of your stay, 50% of the deposit will be returned.
In case of cancellation within the period of 12 weeks, no refund will be made. We therefore recommend that you take out cancellation insurance.
View here the full rental conditions. These apply to every booking.